Home
August 2015
Chicago Discus offers the best discus fish for sale online.  Buy discus fish online or at our hatchery.  We are discus fish breeders and discus fish importers.          We welcome visitors to our hatchery.  Call or email for an appointment.   We sell exotic discus. Chicago Discus exotic discus for sale.
BUY DISCUS FISH ONLINE
SCROLL DOWN FOR LIVE WEB CAM FROM CHICAGO DISCUS
Chicago Discus offers the best discus fish for sale
Chicago Discus brings you the finest discus available anywhere. We breed and we import.  The discus we breed are raised in our modern state-of-the-art hatchery in Chicago.  After searching worldwide for the best source of quality discus, we partnered with Lawrence Soon of Lucky Tr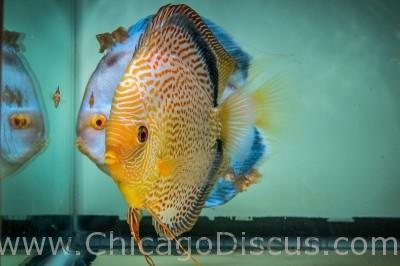 opical Fish Farm in Malaysia. We breed and import only the best.
Our breeding pairs are selected from the finest purebred strains of discus fish.  Many of them were imported specifically for our breeding program.  We have a large variety of active breeding pairs, as well as younger discus that we are raising for new breeding stock. We sell breeding pairs as well as the discus fish that we raise in our hatchery.
We are the exclusive importer of discus fish from Lawrence Soon.  Lawrence is an award-winning breeder, and his farm is one of the top Asian discus farms. To learn more about Lawrence, click on Lucky Tropical USA in the menu above.
We have lots of discus available for immediate sale on our SHOP page.  Please call us or email us, and we will try to match up our discus fish with your needs.
Current Availability:
 August Stock List
New Shipment from Lucky Tropicals Lawrence Soon arriving August 5
See Shop page for details
Featured Discus – See all of our discus on the SHOP page

We use, recommend, and sell:
Kaldnes K1 Moving Bed Bio Media, Sera Discus Granules, Finnex Heaters and Monster Ray Lights
Please contact us to order or for general information:
Send an email: chicagodiscus@att.net
Or call us:  312.622.0055 (office)
312.388.1143 (Josie mobile)
Live from Chicago Discus!
Currently showing: Yoda, our Giant Mbu Puffer, and her friends
click on the arrow for live web cam