About Us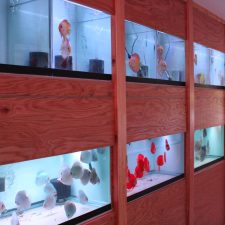 Chicago Discus aims to provide the finest discus strains available in the country. When we started out, most of our fish were born and raised with the most advanced state-of-the-art hatchery technology right here in Chicago. Currently, we import some of the best and most unique strains found anywhere in the world.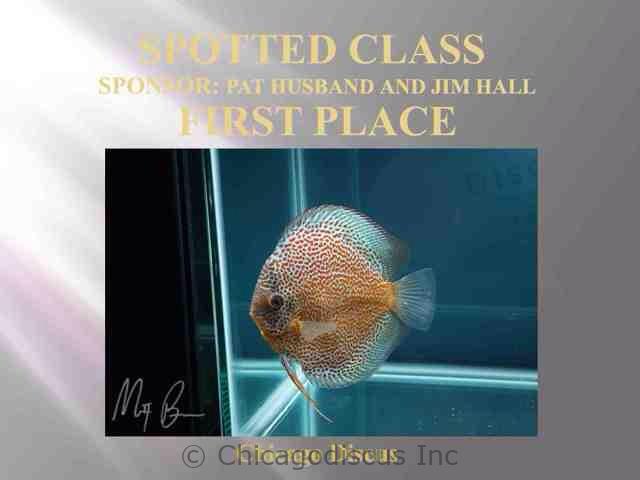 At the 2014 North American Discus Association (NADA) Show in Austin, Texas, Chicago Discus won 1st and 3rd place in the Spotted Class category, and also took home 1st and 2nd place in the Solid Class category. For the 2016 NADA Show held in Chicago, Illinois, we received an award in the Albino Class competition.
The discus at our hatchery vary in stages of maturity, from small fry to adults. We sell our fish when they reach 2.5-3" in length. It is at this size that we feel confident your discus will thrive and lead a healthy life. Over the years, we have transitioned from breeding to importing exclusively. This development has allowed us to introduce new discus strains to the North American marketplace. When our discus fish pair up, we market them as possible (spawning) or proven (with wigglers) pairs.
Chicago Discus will ship orders anywhere in the country and US territories reachable by FedEx Priority Overnight. We guarantee your discus will arrive safe and healthy.
Josie is a woman of many facets, but paramount among them is her love of animals.  In her childhood, she started out with two hamsters, and soon had dozens and dozens of little baby hamsters running all over the house.  In her young adulthood, her passion for horses led her to become one of the fabled carriage drivers on Chicago's legendary Magnificent Mile.  She is the very embodiment of  "all creatures great and small".    She carries her deep-seated empathy for animals to this day, and our home and garden is a sanctuary for rescued animals of all sorts.  Always an avid aquarist, it was her rescue and revival of a neglected discus from a local pet shop that eventually led to founding of Chicago Discus.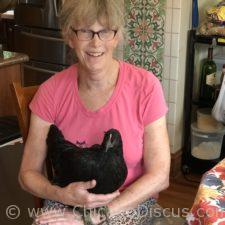 Miranda Miller
Miranda's love for tropical fish began a long time ago.  Having received her PhD in Biochemistry in the 70's, her path eventually took her to an island in the West Indies where she taught biochemistry to enthusiastic medical students.  Every day was a perfect day to visit her beloved coral reefs, where she could swim and dive with the myriad varieties of breathtaking tropical fish: from teaching in the school to schooling with the fish.  When she returned to the states, this passion was put on the back burner while she pursued a career as a scientist and inventor.  That is until Josie suggested turning a passion into a livelihood.  Thus Chicago Discus was born, and the rest is history.

Sky and Petri
Sky and Petri are our unofficial goodwill ambassadors. Chances are when you visit Chicago Discus you will be greeted by a "Hello" or "Hi" from out of nowhere. That is probably Petri swinging on her little swing while hiding in the background. After a while they will come out and ask for your attention. "Asking" consists of a series of deafening screams and amounts to them demanding "pay attention or else." They are our buddies and keep all the discus company during the day. Sky loves to sing and dance (and play with the computer, click here to see a video of Sky at the computer).
Chicago Discus Nature Center
When you visit Chicago Discus, you are welcome to bring the entire family.  We have tried to create something very special here in the big city: a respite for animals of all sorts.  From our beautiful koi pond, to our little Victorian duck house, to our Amish chicken coop, our garden is alive with the sounds of happy animals.  And indoors, it's not only a showroom chock full of amazing discus fish, but also an indoor turtle pond (the winter home for our Red Eared and Yellow Belly Sliders), a home for our desert tortoises, our funny and noisy birds, and much more.  Our newest addition, a darling Silkie Chick, just hatched (picture on left).  So please visit us whenever you are in the Chicago area.