Customer Feedback
We Love Our Customers!
A Compilation of Unsolicited Customer Feedback from Verified Owners of Chicago Discus Fish
2023 Feedback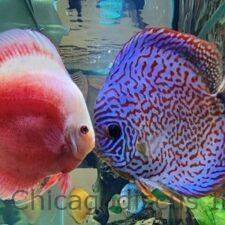 Greetings from Puerto Rico, I have 7 from Chicago discus and the quality is always impressive, these Coral Red are beautiful!!! 100% recommended!!!!  (Jorge L Melendez, posted on our Facebook page, 4/7/23).
We have 16 discus from Chicago Discus and every strain is absolutely stunning. Miranda has high quality discus for sure. If looking for amazing discus look no further, you won't be disappointed. (Wayne Kmiec, posted on our Facebook page, 4/6/23)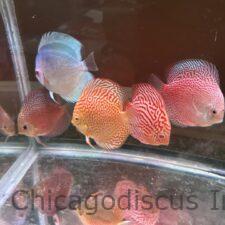 Ok, so I may have justified a work trip to Chicago just to visit
Chicago Discus
… and I may have driven the like 15 hours round trip… and I may have bought 5 new discus… but, DANG that was an awesome experience. Great job Chicago discus! In the QT for a few weeks. Oh, and if you love birds, turtles and koi, this place is your jam! (posted by Jeff Probst, Discus Review Facebook, 3/30/23)
They are the best at Chicago discus!  Even though they ship and do an excellent job at it, we were thrilled to experience the Arboretum, and looking at the beautiful variety of healthy discus! You will always walk away with some fish you are proud to show off!  (Leanna Henderson Vite, posted on our Facebook page 3/24/23)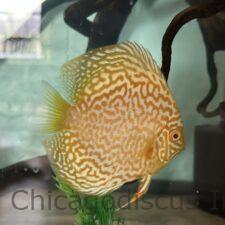 Picked up a golden albino leopard at Chicago discus today! Swimming around exploring the q tank and coming up to front of tank when I walk over which is what I love to see the first day! In love! (Kelly Ferriera, Discus Review Facebook, 3/22/23)
After seeing pictures online, we decided to make an appointment to see them in person. Walking in we were amazed by the amount of fish to choose from!  Several tanks with so many beautiful colors/patterns, and these are not small fish like you see at the swaps! It really made choosing difficult.  Throughout our choice dilemma, Miranda was super helpful and answered whatever questions we had. When we finally decided on our new additions, Miranda carefully bagged them with fresh water and made sure they were secure in their bags for the trip home.  After seeing the size and quality of the fish she has, we will definitely be going back to see her! (Rich Augustine, 3/2/23, 5 star Google review)
I admired the selection from afar for a year before I made my first purchase. My only regret was waiting so long. I dealt with Miranda exclusively during my purchase. I found communication extremely efficient, and Miranda answered all of my questions promptly and thoroughly. Descriptions of the fish were highly accurate. Packaging was impeccable and sizing of the fish was actually underestimated, which was a pleasant surprise. As far as fish quality is concerned, I found the three fish that I purchased to be second to none in my experience. (Mike Simonetti, 2/2/23, 5 star Google review)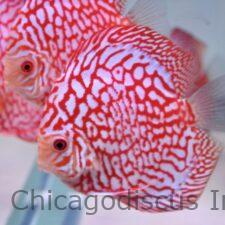 Absolutely amazing place. The only place I buy Discus from. Amazing fish, Amazing people. (John Tortorella, posted on our Facebook page 2/5/23)
Can't wait to see what's new! And again I can't thank you enough for all the time you spent with me. So professional and honest! (Susan Marie Loring, posted on our Facebook page 2/3/23)
If you are looking for high quality, large fish, this is your stop! Beautiful and healthy fish from great people. (posted by Carter as a review on Chicago Discus Facebook page, 2/2/23)
By far the nicest Discus I have ordered from anywhere. Miranda and Chicago Discus are super easy to deal with. My Super Red Eagles are stunning! Healthy, fat and energetic right out of the bag. They have top notch packaging. I live in a cold climate and when I opened the box it was nice and warm. And water was still above 80 degrees. (from Mike Medeck, posted as a comment on Super Red Eagle listing, 1/10/23)