2019 Feedback
If Chicago Discus has the strain/color that you want, then don't hesitate to buy from them! (DiscusPaul, Posted on Simply Discus Forum 11/22/19)
I've gotten all my discus from Miranda at Chicago Discus and could not be happier. She has never disappointed in three years of purchases. See my earlier thread titled devastated no more to see what she has sent…  (Doogy262, Posted on Simply Discus Forum 11/22/19)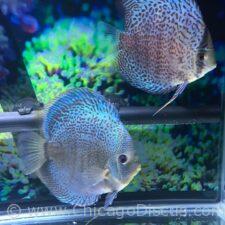 I shop at their location to buy my discus, their discus are of high quality and healthy. Miranda is great and every time I visit, been there many times now over the years, the tanks are very clean and organized. I've never had any issues with discus and other fish I've bought from Chicago Discus. (FishFanMan, Posted on Simply Discus Forum 11/22/19)
No words are needed here!!!Check out these beauties from Chicago Discus. Miranda was super helpful and very patient with me in the process of me making up my mind. Was happy to send individual pictures and videos! Amazing transaction! I will for sure go back for more!!(Jennifer, Simply Discus Facebook Page, 9/10/19)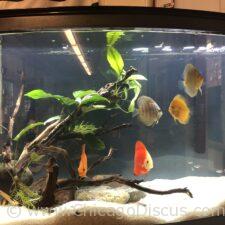 Hope you had a fantastic weekend! I just wanted to thank you again for the very generous discus donation. All of the fish are doing well and are a big hit with the students. We have already had some cool discussions about the Nitrogen cycle and have been tracking water readings. I am looking forward to some of the other discussion that should be taking place later in the school year. Thank you again and we appreciate the support!! (Steve Siemek, 7th Grade Science Teacher, Herrick Middle School, 9/9/19)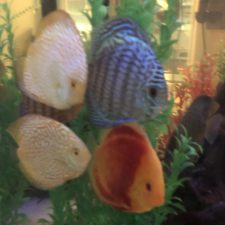 Discus arrived at 9:30 am and seemed in good health. Went thru acclamation process, which took about 65 mins. and then netted into tank. They are beautiful and hiding and coming out for swims. This whole process was top notch, very impressed with Chicago Discus. (from Ray, 9/6/19)
The discus arrived in perfect condition! Thank you so much! They are already moving about and very active… I will be sure to post a video once they get settled in. Thanks again for everything! I will definitely recommend you and Chicago discus to any potential hobbyists. Have a wonderful weekend! … I have been a hobbyist for 35 years.  Never, ever have I seen such beautiful discus.  I attached a few pictures- lights are still off as per your instructions. (from Jason, 5/31/19)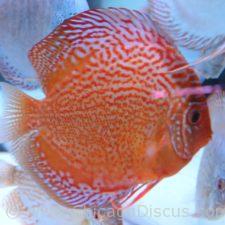 FedEx delivered the fish about 9:30AM local time, bags were floated and 4 beautiful new and healthy looking Discus are acclimating to their new surroundings. We're very happy with the fish! The Classic Spotted Leopard looks even better than the photo you sent, the Albino Calico very beautiful and unique, the Blues (both Turquoise & Snakeskin) are simply gorgeous.Thank you once again for a great Discus shopping experience. (from James, 5/25/19).
The fishlings arrived an hour ago.  They are beautiful and are doing as well as can be expected after such a trip for them. The water temperature was 82 and the PH was 6.3.  As always, the packaging was superbly performed and all the extra nice little touches – the thank you notes, the Chicago Discus stickers, all professional and yet personal. Lastly – Thank You.  You ladies are great, your product is great, and your customer service is great. (from Saulo, 5/24/19)
Just a update on the fish blue diamonds spawned last night and lemons hatched good amount of fry  I'm super happy with them and I can't thank you enough for your help and time. I check the website daily just have to make room for more discus from your company. I'm not buying any discus unless it's from you. (Frank, 4/26/19) Thank you for a incredible experience today. What a set up. Fantastic customer service. I'll definitely be back. The fish are awesome. They are in their new homes and calm acting like they have been there for awhile. I will keep you updated on there progress. Thanks again for all your help and fantastic fish. (Frank, 4/21/19)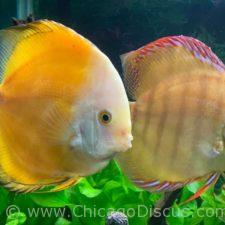 We finally decided to own this very beautiful fish-discus and to have it purchased at Chicago Discus. Miranda is the best! She gave us a lot of tips how to take care as an owner and she was very accommodating. We planned to buy 3 discus but it ended up to 5 discus because they are very beautiful, high quality and healthy fish they had. We will definitely come back to buy more from them and it's worth of a drive from Indianapolis to Chicago. Wish we can rate more than 5 stars because they deserved it. (Comments and Photo by Alex, posted on Facebook, 3/25/19)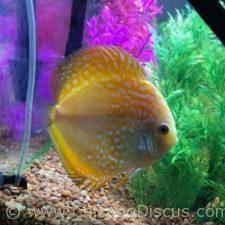 You did an amazing job of selecting beautiful discus for me and it is very much appreciated.  I could not wait to get home to get you some pictures of them in their new home.  They have adapted well and so no signs of stress whatsoever .  Interestingly , when I approach the aquarium, and all the others know its dinner time and rise to the surface in unison, these new ones followed suit.  (Comments and Photo by Ernie, 3/16/19)
I just wanted to thank you both for all the care you took in the delivery of our fish. They are absolutely beautiful!  The next time we travel to Chicago we're definitely making a visit to you and your store. Thanks again for everything.  (Moni, 3/16/19)
My new Friends have arrived safe and sound and are checking out their new surroundings. What beautiful creatures! You certainly called it with the Turks, they are glad to be with each other. Such a kind gesture on your part. You certainly have a loyal customer for life. (Todd, 2/23/19)
Discus arrived in perfect condition. After acclimated to water temp they were slowly integrated into the tank where they showed no signs of stress. I proudly had friends over tonight to show them off. I am so glad I discovered your company.  (Ernie 2/21/19).
One hour out of the bag. Sky blue Cobalt. You all hit this one out of the park. Can't say enough about the pleasure Chicago discus has added to my tank. (Mike 2/20/19)   Just wanted to let you know that the FedEx driver kept that box up front with him all day. Gotta love professionals. Also the Cobalt already paired off with my female Turk and laid eggs today when I was at work. Just a great deal!  (Mike 2/21/19)
Great variety of colorations and sizes at fair prices. Miranda really knows what she's doing and is very helpful when it comes to tips and advice. Got a kick out of the squawking from her parrots. Definitely recommend this place to anyone starting out in the discus hobby. … (from Jake, posted on Facebook 1/26/18)
All 4 fish arrived safety and in the 29 gal that will be home to the pair. The blue snakeskin and leopard are HUGE, practically 5″.  Will give you excellent ratings,  but you don't need it if you treat all your customers as well as you have and take such GREAT care of your fish. … The verified pair looks great and should be breeding in no time. …  from David (01/09/19)
I cannot say enough about the time and attention you provide your customers.  I have only and always will, exclusively purchase from Chicago Discus! … from Stephany (01/01/19)
I really appreciate you working with me and the quality of the fish you have sent.  Both the other pairs and spawning frequently and caring for the babies.  (01/01/19) …  The new pair look great are exploring and look completely not stressed.  The other 2 pairs I got from are both raising free swimmers as of yesterday. They spawned at the same time.  …  from Greg (01/04/19)