2020 Feedback
Just got 8 amazing fish. They look great and immediately are eating and interacting. I'm so impressed with the quality and the health. I looked at lots of places and went with my gut based on feedback. So glad I did. (from Rocky, Facebook review 12/31/20)
I've ordered from others but they can't compare with Chicago Discus! From the ease of ordering to the supreme method used in packaging for shipping, Chicago Discus is THEE BEST! Absolutely the nicest quality Discus and great pricing. I won't be buying from anyone else. I love my fish!  (from Jan, Facebook review 11/7/20)
Just letting you know they arrived in perfect condition.  The only bag that had water in the outer bag was the turquoise.  Seems like a thing with them.  Every one I've ever had shipped popped thru at least 2 of the inner bags.  Very nice, tight packing job.   Overall extremely happy and I wont hesitate to recommend you.  (from Martin, Facebook messenger 10/22/20)
When I decided to get discuses, I was searching the right vendor. I found a YouTube video that Miranda was interviews during the fish show, she patiently explained how to take care of discuses. I could feel the tranquil and caring energy from her voice. I know she is the one. Thanks Chicago Discus helping me to learn about how to care for these beautiful fish. The discuses I got from her are so beautiful, healthy and much larger than I could expected.  (from Ling-An, posted on Facebook 10/25/20)
Both fishes arrived today sound and well. I have bought my fair share of discus online and I was impressed by how well they were packaged.  Excellent job!  Many thanks. (from Alberto, 9/29/20)
Just wanted to let you know that all the fish arrived safely at my house around 9:30am this morning and all I can say is WOW. They are very beautiful and way better than I could have imagined, thanks again and I can promise you this all future discus will be purchased from you :-). (from Joe, 8/12/20)
Just wanted to thank you for the Discus that I received today.  They were safe and sound thanks you your great packing job! I'm working their acclimation now and looking forward to putting them in their new home. Lights are off and I will try to get some pics tomorrow. All 4 look great so far with no issues observed. Thank you again and I look forward to another purchase in the near future. (from Tim, 7/7/20)
I cannot say enough good things about the dealer and the order we just got from Chicago Discus! Both the fish and the service has me blown away. Miranda was very easy to deal with via email. We got exactly what we wanted. She also picked out the fish and saved them for us while waiting for the arrival of our new tank. They have been here for 3 days and are settling in quite nicely. …  I do not know if she had these for some time or if they are new arrivals, but they are in excellent condition. Eating well and acting very good. They were packaged VERY safely in nice big bags. Even a sweet note on the top of the box to me. These folks really know how to do business. … (posted by Vinni on Simply Discus Forum, 6/18/20).
Fish Arrived  in AWESOME  Condition… acclimating now…As always. I'm very HAPPY with your pick. They look GREAT  Thank you for being #1. Be safe. Stay safe. (from Fred, 6/11/20).
Chicago discus is where it's at! Awesome colors Great service.  3rd time back now and more to come as we upgrade our home tanks. (from Eli, 6/3/20)
Just received four red checker board pigeons. The fish arrived healthy and beautiful. I really appreciate the level of care and detail that went into the shipping. I will definitely order more and often. Excellent service and knowledgeable!  (Feedback from Wendell, 4/28/20)
The Discus are acclimatizing and have arrived safely (perfectly packed!). They look stunning!!! I am also very happy with the color combination (now I can start thinking about which last 3 to add 🙂). I'll send you some pics tonight of them adjusting to their new home shared with 30 cardinals and 15 Corydoras Sterbai. (Feedback from Rutger, 3/25/2020)
(I am a) Returning Customer.  Both green velvet cobalt males are large and VERY WELL FED AND CARED FOR. The greenish shim has be appreciated visually to be truly appreciated for its beauty.  Both showing interest with proven females, so will just wait for natural chemistry to sparkle!  Both leopard discus are healthy and larger than expected,  One appears to have some eggs in store, so will see how she does with a likely male leopard/green discus.  These leopards are both eating very well.  Also:  regarding the pair of red cover bought about a year ago.  These are fantastic parents and have produced at least 4 sets of healthy fries and shown to be very reliable parents, ones that I am learning what model discus parents can be.  (Feedback from David, 3/24/2020)
I am regular customer of Chicago Discus and over the past 2 years, I purchased some of the best and healthy Discus on the market. On top of that is the outstanding customer service that Miranda and Josie provide. They are people who have a tremendous love for their pets, I been at their store and seen what they do and how they care for the Discus they sale. I am a picky customer and they never let me down. I am very happy have found them and highly recommend to anyone who wants to have beautiful, healthy fish and excellent overall experience! (from Chris, 3/13/2020 Facebook review)
I just received my shipment of Discus this morning and as always the are beautiful! The little Spotted Leopards are very cute along with the Snow White Diamonds. My husband loved the Carnation Turquoise so much we order a couple more😊 (from Michelle H, posted on Facebook, 3/3/2020).
My fish arrived safe and sound and they are absolutely STUNNING!!! Plus the fourth fish was a wonderful surprise! They have all adjusted well and seem pretty happy. The way that they were packed for shipping was phenomenal! I'll definitely be making all of my future purchases with Chicago Discus! Thank You! (from Nate, 2/5/2020)
I just got them about 15 minutes ago, acclimating right now. All I can say is WOW love them!!  They are even a beautiful color right now gorgeous, very calm right out of the box, Thank you for picking me out some beautiful fish!! Let's hope they're females LOL. Let me know when you will be getting checkerboard pigeons in and  if you get any white diamonds would love one of those to in 5 inch or more.  I might just take a ride then I'm only 2 hours away!!  (Michelle P, 2/4/2020)
Thought you would enjoy an update.  This is the second attempt for this pair (picture attached), successfully fertilized, however eggs disappeared on 3rd day. The other 2 have pair off and attempting their first spawning today. Thanks again for these beautiful discus.  (from Stephany, 1/16/2020, Rose Red)
Good morning! I am pleased to inform that all the fish I ordered from you two weeks ago are doing great. In fact, I've already got a proven pair and am a "discus dad" as of this morning! Another pair is also developing…time to get the breeding tanks ready 😉. I've included pix for your use as customer feedback of my awesome experience with you and Josie. Many thanks and I will be in touch when…not if…I want to order more!! (from Karl, 1/18/2020, Red Turquoise)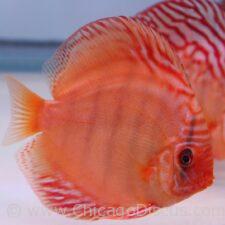 Chicago Discus took my phone call on a Sunday and patiently answered a bunch of my questions and gave me some great advice. My next fish will come from them! (from David, posted on Facebook, 1/10/2020)
Thank you very much…the fish arrived in great condition and are acclimating to and exploring their new home! They are already looking comfortable in my 75g planted display tank and they all look fantastic!!  I am really impressed with the size and color…especially the red alenquer. I'll send a picture once I acclimate them to the tank lighting. Thanks again and happy New Year!!! (from Karl, 1/4/2020)